Is NetFlix becoming TankFlix?
Netflix (NFLX) beat the Street last conference call and it's stock soared. However since that time the stock has come back down to reality. Is now the time to buy and believe it will climb back to where it was last month and beyond?
Netflix was hitting new 52-week highs last month. Come March the tone has changed. NFLX has shed 13% since Feb 27th, now trading around $419 a share. Netflix was looking like it could be the stock to own for 2015.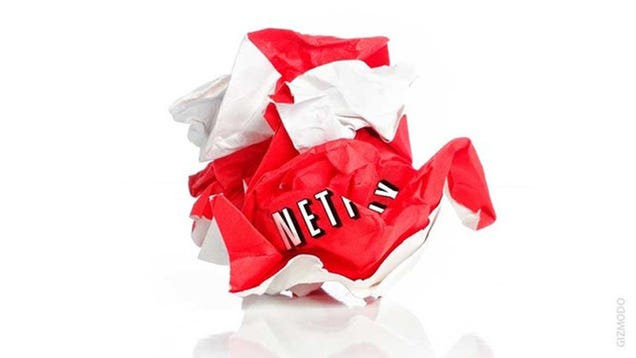 It is up $100 since the start of the year, so why the pullback?
Apple (AAPL) is offering HBO GO on Apple TV for $15 per month. Dish Network (DISH) just rolled out Sling TV Internet TV service starts at $20, features Disney's (DIS) ESPN, TNT, TBS and Cartoon Network. Oh no, Netflix is going to get killed. Sell now. Those two offerings are going to take away from Netflix's market share, blah, blah, blah.
No they won't.
It's looking attractive again thanks to the high frequency trading robots and others that have made the quick buck.
Don't listen to us, take the advice of one of the firms that rate Netflix:
Stifel reiterated its Buy rating and $535 price target on shares of Netflix (NFLX)
The note said, "Netflix shares have pulled back by more than 10% over the past two weeks, which we believe is largely due to the perception that growing streaming video on-demand (SVOD) competition could negatively impact Netflix's domestic business, which is currently funding much of its content library investments/international expansion. We believe competitive concerns are overblown; we think Netflix's positioning in the U.S. is as strong as ever and continues to improve with each new content deal it signs. Recent speculation over a Spain launch in late summer/early fall could also prove to be a tailwind to Netflix's international business in 2015 that may not be fully reflected in consensus numbers."

Stifel still expects 100 million global subscribers by 2017, given Netflix's pace of international expansion and content announcements.
NFLX will not become TankFlix. The lower the stock goes the better the long term opportunity for the future of TV.
Best of the Blogs
BlogDroid 600
Scanning and identifying the best blog entries every hour
Latest Headlines
Newsbot 3000
The most relevant financial news and articles from the Internets