Friday Mailbag: "What to Buy?" (GE, AUY, BA, ZOLT, POT)
I got some hate and friendly emails this week asking me did I buy any stocks this week and how did I know to be 100% Cash last Friday.  Besides the normal Spidey-Sense and watching the market like a hawk, let's get into what I did and why.
First off, full disclosure here, I sold everything I owned last Friday, then this Wednesday and Thursday I bought a few small positions, those securities include:
Tickers Alone: GE, AUY, BA, ZOLT, POT
They were just too good to pass up and after talking with the other Masters and reviewing their articles, I was sold on the bets I've made this week (for the time being). 
I sold every stock and ETF I had last week because in preparing for how I should trade in the coming week I took a look at the economic activity for the week ahead, and it didn't look good (all listed below).  I do this every Friday, just in case I think something may hit us on Monday - http://biz.yahoo.com/c/e.html
Come on, did you really think Auto Sales, Unemployment, Factory Orders and everything else was going to be good?  Hell to the No. 
Americans can hardly afford gas, food, mortgages, bills, inflation, and everything else lately.  Those stimulus checks have been cashed and spent, its over, we've got a rough road ahead of us.
Add to it that Hurricane Gustav could have destroyed the oil industry and the southern states over the weekend, there was just too much at stake to leave my money with Mr. Market. As expected, all of the data reported this week was horrible:
Date
Time (ET)
Statistic
For
Actual
Briefing Forecast
Market Expects
Prior
Revised From
Sep 2
12:00 AM

Auto Sales

Aug
-
4.8M
NA
4.4M
-
Sep 2
12:00 AM

Truck Sales

Aug
-
4.8M
NA
4.6M
-
Sep 2
10:00 AM

Construction Spending

Jul
-0.6%
-0.3%
-0.4%
0.3%
-0.4%
Sep 2
10:00 AM
ISM Index
Aug
49.9
50.2
50.0
50.0
-
Sep 3
12:00 AM

Auto Sales

Aug
-
4.8M
NA
4.4M
-
Sep 3
12:00 AM

Truck Sales

Aug
-
4.8M
NA
4.6M
-
Sep 3
8:15 AM
ADP Employment
Aug
-
-
-19K
9K
-
Sep 3
10:00 AM

Factory Orders

Jul
1.3%
1.0%
1.0%
2.1%
1.7%
Sep 3
10:35 AM
Crude Inventories
08/30
-
NA
NA
-177K
-
Sep 3
2:00 PM
Fed's Beige Book
-
-
-
-
-
-
Sep 4
8:15 AM
ADP Employment
Aug
-33K
-
-30K
1K
9K
Sep 4
8:30 AM

Initial Claims

08/30
444K
415K
420K
429K
425K
Sep 4
8:30 AM

Productivity

-Rev.
Q2
4.3%
3.5%
3.5%
2.2%
-
Sep 4
10:00 AM
ISM Services
Aug
50.6
50.0
49.5
49.5
-
Sep 4
10:35 AM
Crude Inventories
08/30
-1898K
NA
NA
-177K
-
Sep 5
8:30 AM

Average Workweek

Aug
33.7
33.7
33.6
33.7
33.6
Sep 5
8:30 AM

Hourly Earnings

Aug
0.4%
0.3%
0.3%
0.4%
0.3%
Sep 5
8:30 AM

Nonfarm Payrolls

Aug
-84K
-70K
-75K
-60K
-51K
Sep 5
8:30 AM

Unemployment Rate

Aug
6.1%
5.7%
5.7%
5.7%
-
Spidey-Sense?
No, just common sense.
Trading these days sucks, if you miss just one day of headlines and market activity, you can be out thousands in a matter of hours.  I don't day trade, I buy stocks I can hold at least a week, but lately I've been buying and selling every few days due to the volatility.
This bullshit about how the market will come back and you'll just have to wait a few years, maybe postpone retirement -- doesn't fly with this guy.  I like my money and if I see something on the horizon that could crush my holdings, I'm out like Seacrest.
You just can't risk your neck in this market, there's no new money coming in, just the same or less money being thrown around on a daily and weekly basis at the 'sector of the week'.
A plug for the financial blogs of the world found listed at newsflashr and of course the Fly and his gang at iBankCoin.com, the best information I get is found through those outlets. All of us have our favorite sites to frequent, but the same crap copy & pasted found at every major news website (Yahoo Finance, TheStreet, MarketWatch, etc..) with the exception of Bloomberg.com isn't very helpful when it comes to deciding what do with your money.  Who's looking out for the average investor? 
No one, just you.
That's the cold truth and reality, you have your favorite books you've read (Vitaliy Katsenelson's Active Value Investing best I've read recently), CNBC, Fox Business, Bloomberg Channel, and the blogs & news sites but who's gonna help you manage your money?  It's all on us to manage our 401k's and IRA's because Generation X & Y may not get Social Security, we've been brought up not to count on it.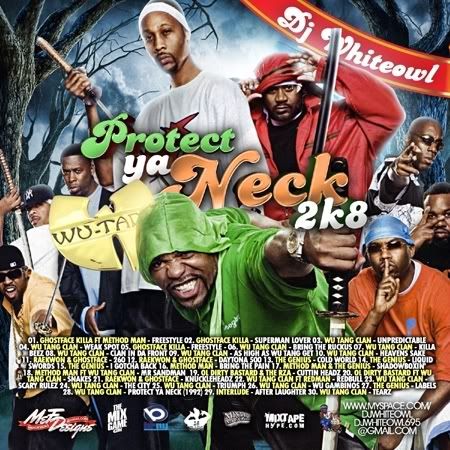 The whole point of my rant today is to really pay attention to what is in the news and what the possibilities are for the week ahead. The talking heads can't help you after the fact, these days you have to protect your neck, Wu-Tang Style.
Now that its Friday, I did make some buys this week that I plan to hold for at least a few days. 
Why bother reading finance blogs?
Most of these guys that are real, do actually buy and sell stocks and aren't always trying to sell your something you don't need.  The best 'advice' or opinion you can get is from the traders actually throwing their money down, not on analysts and reporters that talk because their paid to, but don't actually risk their own money. 
Fellow Masters, be careful out there, enjoy the weekend and if you write a blog that we should know about, let us know so we can feature and promote your work.  It's a small world in the circle of financial bloggers, there are some good ones out there, but there is a ton of trash to sort through.  But that's what great about the internets, it's a free for all.  Take the best, but take it with a grain of salt.  We are all in the same boat, so best of luck investing and don't let the market steal your money away.
Best of the Blogs
BlogDroid 600
Scanning and identifying the best blog entries every hour
Latest Headlines
Newsbot 3000
The most relevant financial news and articles from the Internets