Winning Charlie Sheen Stock Picks
Mastery had no choice but to turn the clock back to March 2011, when we published Warlock Charlie Sheen Stock Picks. Turns out some of these stocks still hold up in 2012. A few Charlie Sheen stock picks could be PepsiCo (NYSE:PEP), CBS Corporation (NYSE:CBS), Altria Group, Inc. (NYSE:MO), and Goldman Sachs (NYSE:GS).
(March 2012 | theStockMasters.com) Now that we all know Charlie Sheen has tiger blood, what kind of damage could he do as a financial advisor? This is the guy that played Bud Fox in Wall Street in 1987 and then again for a quick cameo last year in Wall Street: Money Never Sleeps. Following Sheen's latest display of sober brilliance, the Masters speculate what securities may go hand in hand with the epic star? After all, "hope is for suckers and trolls" and we want clear results.
CHARLIE SHEEN RULES
Make no mistake, the Masters admire Sheen's rockstar life and style. He has no fear and is on a mission to get paid. Say what you will about Charlie Sheen, but he is a man who can party with the best of them and do his day job. The same can't be said for all the other movie/rock stars that can't hold their own (Britney, Lohan, Aguliara, Snookie, etc), but Sheen can. Good luck Charlie, the Masters are pulling for you.
WHAT WOULD CHARLIE BUY?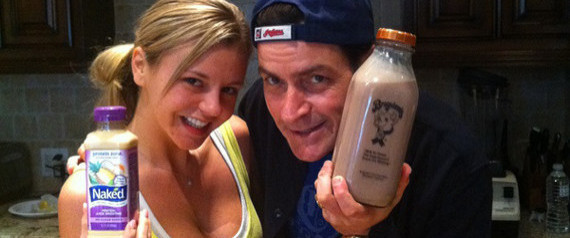 Just take a gander at Charlie's twitter page (http://twitter.com/charliesheen), here's today photo (March 2nd) and its all about Naked Juice. Since 2007, the Naked Juice brand has operated as a wholly-owned subsidiary of PepsiCo (NYSE:PEP), under the parent company's PepsiCo Americas Beverages division. As for the chocolate milk, that's from Broguiere's Farm Fresh Dairy in Montebello, CA.
This is free advertising for Naked Juice and Broguiere's, thus invest early should the trend continue.
A RATINGS DREAM
CBS Corporation (NYSE:CBS) could cash in like never before thanks to Charlie Sheen's Two And A Half Men. However the case for shorting CBS could also work as the company could be on the hook for hundreds of millions by keeping the show off the air and lawsuit central by the Warlock himself.
CBS CEO Les Moonves is opening up to express his views on the recent suspension of the hit show Two And A Half Men. Moonves says that although he hopes Two And A Half Men will return to the air, it's suspension is actually good for the network, and he doesn't foresee any financial trouble due to all the recent chaos caused by Sheen.
The halt is "actually a gainer for us," Moonves said. "Going down the road ... I don't know what's going to happen. I hope it's back. We'll see."
Charlie has the CEO's attention, should he work with them, its big bucks and no whammies.

SMOKE EM
The Tiger sure does love his cigarettes, although we are not sure which brand he's smoking, we have to assume its manly Marlboro. If its Marlboro, you have to go with Altria Group, Inc. (NYSE:MO).
Altria Group is perhaps the most defensive of stock plays; tobacco has a loyal following regardless the economic conditions. Add to it the company has a 27.3% economic and voting interest in SABMiller plc (SABMiller) and how can you go wrong?

GO WITH THE WINNER

Even Bud Fox would agree that the true winner on Wall Street is Goldman Sachs (NYSE:GS).
Rule of thumb, never bet against Goldman Sachs (GS). The fact that the Wall Street Financial King only had 25 negative trading days in 2010 should be convincing enough. Goldman always wins.
HARDLY LOSING IN 2010
(Bloomberg) -- Goldman Sachs Group Inc (GS) the fifth- biggest U.S. bank by assets, lost money from trading on 25 days during 2010, up from a record-low 19 days in 2009, according to a regulatory filing.
After incurring losses on trades during 12 days in the first 9 months, the full-year figures indicate that Goldman Sachs lost money on 13 days in the fourth quarter. The firm's traders also made $100 million or more on 68 days in 2010, down from the record 131 days in 2009, according to the New York- based company's annual 10-K filing with the Securities and Exchange Commission.
Disclaimer: Charlie Sheen did not recommend these stocks, this is just a hypothetical analysis. None of the StockMasters have any positions in the securities mentioned in this publication.
Best of the Blogs
BlogDroid 600
Scanning and identifying the best blog entries every hour
Latest Headlines
Newsbot 3000
The most relevant financial news and articles from the Internets